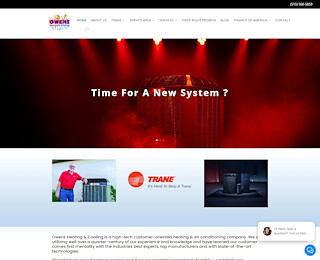 At some point, your AC will eventually need to be replaced. There are different warning signs that your air conditioner has run its course. For instance, if your unit is over 15 years old and has recurring breakdowns, it might be time to begin looking for a new one. Of course, a new AC is a considerable investment. However, getting another system will save you from costly repairs and high energy bills down the road. Additionally, it will greatly improve your indoor air quality, not to mention enhance your comfort.
At Owen's Heating & Cooling, we offer top-of-the-line AC services, including air conditioning installation in Ames. You can be certain our award-winning HVAC service in Jefferson will always ensure your comfort and safety first and foremost.
Our Residential and Commercial AC Installation Services
At Owen's, we understand how crucial it is for your business or home to remain cool throughout the hot months. That's why we provide second to none commercial and residential installation as well as AC service and maintenance in Jefferson.
Residential AC Installation
Are you performing frequent AC unit repairs? This might be an indication that your air conditioner is failing or old. As such, getting a new appliance will ensure you have a more efficient AC that will help you save on your energy costs. We at Owen's Heating & Cooling are ready to assist with AC installation. When you enlist our services, our highly trained technicians will start will a full load calculation.
Here, we'll take into account your insulation square footage, among other factors. This will enable us to determine the optimal cooling capacity your home requires. After selecting the ideal system, we'll work relentlessly to have your air conditioner up and running in no time.  Because we specialize in top AC models, we're familiar with all the manufacturer's instructions and know-how to make sure any air conditioner we install adheres to those specifications.
Commercial AC Installation
As a business owner, it's critical to have any AC problems addressed immediately. Otherwise, if minor issues aren't quickly sorted by a Jefferson AC repair company, they could lead to serious implications. Your team's productivity will be significantly affected, and equally worse, you'll drive customers away. At Owen's Heating & Cooling, we understand how essential it is to have an AC you can depend on.
So, if your current AC has been the cause of so many troubles in your workplace, we'll recommend the best unit that meets your business needs. Our commercial AC installation services are reliable and provide lasting solutions that will keep your customers and employees happy.
Unbeaten AC Installation Services
Every commercial building or home has varied needs when it comes to air conditioning installation in Ames. For this reason, we offer highly individualized solutions for our client. We know that while a particular kind of AC might fit the needs of one place, it may not be ideal for another location. That's why we're always happy to guide you in picking the perfect air conditioner that meets your specific needs. Owen's offers financing. Apply today: https://www.mysynchrony.com/mmc/S6216659100. Contact us for service by phone or online any time: https://owensheatingcooling.com/contact/.