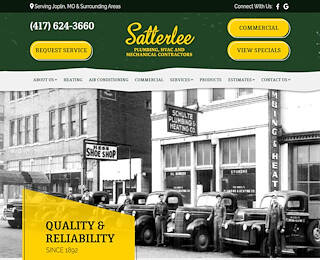 Are you looking for a Miami Oklahoma heating and air company to maintain, repair, or replace your system? Finding the best HVAC contractors is crucial. Even with a new HVAC unit, selecting a reliable company will extend the life of your system and ensure it performs optimally throughout the year.
At Satterlee Plumbing, HVAC, and Mechanical Contractors, we're a reputable company for heating and air conditioning in Miami OK. Our team comprises extensively trained and experienced technicians, licensed to replace, repair, maintain and install HVAC systems. Whether it's a residential, municipal, commercial, or industrial project, we've got you covered.
Our Experience in Heating and Air Conditioning
Founded in 1892, our Satterlee Plumbing, Heating and Air Conditioning company has been in our family for the last four generations. Over the years, we've established a bulletproof reputation due to a strong focus on customer satisfaction and extensive knowledge of HVAC units. We have a genuine passion for installing, replacing or repairing HVAC systems.
Our clients know that we're a reliable heating and air conditioning company in Miami OK, and as such, depend on us 24/7, even for emergencies. In addition, our technicians who are all highly skilled and experienced, are backed up by fast and accurate troubleshooting skills and sound insurance policies.
Commercial Heating Units Repair
Break downs for commercial heating equipment are inevitable. Commercial furnaces are larger and more complex compared to those used in residential properties. As such, if one component of a commercial heating unit malfunctions, it may cause the entire system to fail, resulting in heat loss. With years of experience troubleshooting commercial units, you can depend on our Miami Oklahoma heating and AC company for efficient, safe, and quick services. From multi-zone to single-zone setups, our technicians can handle any setup, no matter how complex.
Commercial Grade Air Conditioning Repair
Some commercial-grade air conditioners cannot be repaired by simply following a manual. You'll require the services of an experienced company that understands legacy as well as newer systems. While you might have the option of checking out other companies for heating and air conditioning near Miami, OK, not many firms have the experience.
That is what makes us the go-to company for all your HVAC needs. We're dedicated and always deliver successful results. Besides, we have the credentials to prove it. As a reputable AC company in Miami, OK, we understand that any system can break down at some point. And when that happens, we'll be here to for you. Our technicians will promptly inspect your unit, decide the best course of action, then get right into it. We will let you know what caused your system to malfunction and what we can do to prevent your employees and clients from suffering in the future.
Missouri's Trusted HVAC Company
Need a dependable HVAC contractor to install, maintain, repair, or replace your HVAC unit? Our company for heating and air conditioning in Miami OK is here for you. Enlisting our services guarantees you peace of mind. We're known for our honest and timely service. Our technicians will respond to your requests fast and provide the right solutions to meet your needs as well as budget regardless of the size of the job. For a free inspection and quotation, call Satterlee Plumbing, HVAC, and Mechanical Contractors on 417-624-3660.
Satterlee Plumbing & HVAC
+1 417-624-3660
3423 North Main Street
Joplin
MO
64801
US